I'm eagerly anticipating the publication of the first issue of Gorse, a new twice-yearly print journal that will publish longform literary essays, original fiction and interviews. It's out in January, which is now only a day away.
The editors of Gorse, Susan Tomaselli and David Gavan, have recently revealed the cover design of the first issue, by artist Niall McCormack.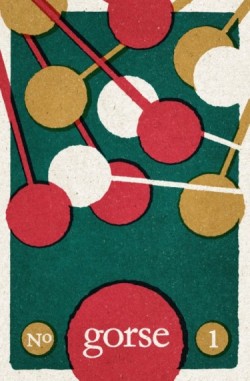 I have an essay in the issue: while running around Paris, I consider the place of the city in the work of Raymond Queneau. I also think about history, cities, and how my home city of Dublin always drags me back. Running around Paris also allows you to consider the literary place of walking, and how running is different (well, it's faster innit?).
Queneau was born in Le Havre in 1903. He arrived in Paris as a student and remained there for the rest of his life. When I picture Queneau, I see the multiple passport-sized prints of the young writer, hair long on top and short on the sides, caught in a variety of comic poses: one where his head is bent forward while he ruffles his hair, another where his round glasses that sit askew are about to fall from the bridge of his nose. In others he adopts monstrous faces that barely mask his laughter.

[...]

Sometimes walking isn't enough. When I've walked around a city for some time, and I seem to have exhausted the possibilities of that place, I look for other approaches. I want to find an angle that will break open the city and reveal something else, something I haven't seen before.
I'm looking forward to reading the pieces by the other contributors – an array of excellent, exciting writers such as Kevin Breathnach, Rob Doyle, Joanna Walsh and John Holten. Darran Anderson, who has recently written a book about Serge Gainsbourg's Melody Nelson album, contributes an intriguing essay on 'how modernism is ancient'. Darran has written his own post about the journal and his contribution to it.
(The contents for issue one are available here.)
Based on the contents of the new issue, it looks like Gorse is a publication that's very much worth supporting – it's going to go to some interesting places. Donate to Gorse here. Buy the forthcoming issue here.